I tend to stay away from trendy clothes. I mean, I've learned my lessons many, many times over the years. When I started seeing women wear the so-called "teddy coat" last year, I gave it a "no, thank you" reaction.
As this winter approached, I started seeing more and more women wearing it, especially on social media. That even gave me more reason to not get one. I didn't want what everyone was wearing.
Just in case you're wondering what the teddy coat is…it's a plush, fuzzy-looking coat that kind of resembles a teddy bear. Not to worry, there's no real bear fur :). The coat comes in may different materials but the popular and more reasonably priced ones are made of fleece or sherpa.
Then I saw that my friend and fellow blogger Shalice Noel wear hers on an Instagram post. She mentioned that her coat was under $50, which piqued my interest. So I gave it a try.
I ordered my fleece teddy coat from UNIQLO. It arrived. I tried it on. And initially thought I looked like a pimp! I have broad shoulders already, but the coat is made to look like an oversized coat. So I just imagined myself looking like a pimped out linebacker.
But I didn't want to return it because it was so soft I could live in it. So I kept it. And guess what? The babies loved it! Not on them but when I wear it, they love to cuddle with me. I was their mama bear blanket! Plus…we coordinate when they wear their Chewbacca fleece cozy one piece!
I've been wearing this coat every chance I get. I've even worn it on some very cold days in Chicago – think 20 degrees – and it's kept me warm and cozy. I'm hoping this teddy coat trend doesn't go away because I can't stop wearing it. It even makes winter in Chicago more BEARable!
The Uniqlo Teddy Coat is sold out but I've rounded up a few others that are still available!
Banana Republic Sherpa Cocoon Coat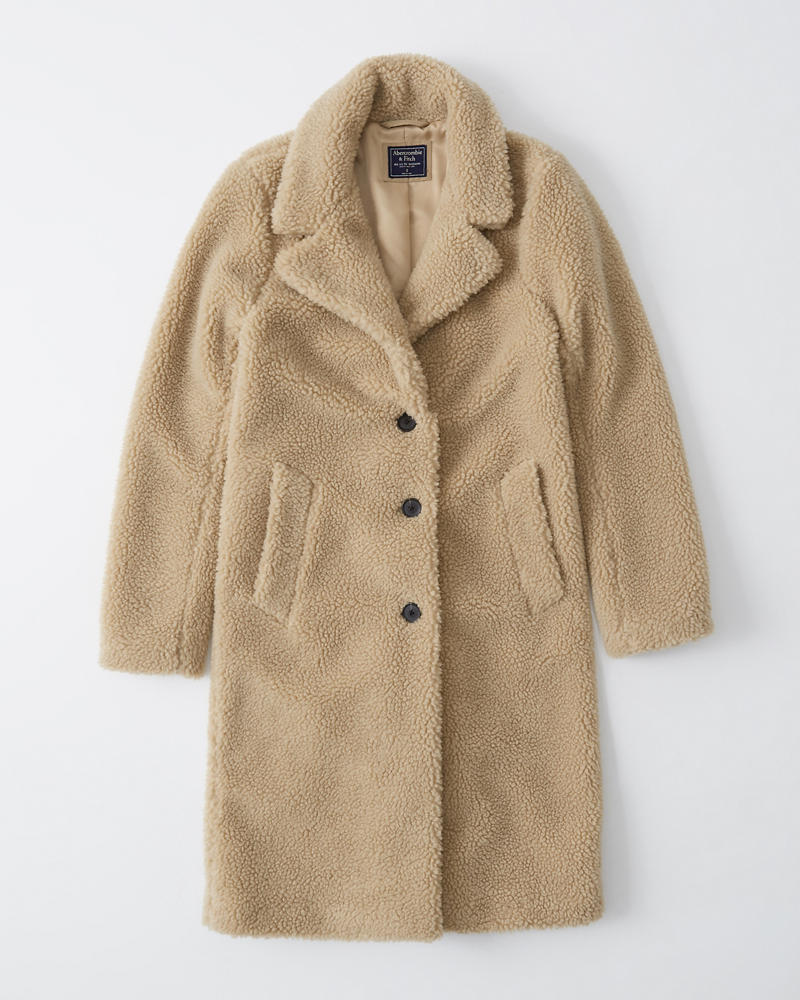 Abercrombie & Fitch Sherpa coat